I love traveling and I believe that everyone should experience it. The Earth has some amazing places and everyone should try and get out to see them. I love traveling and have only been to a few places, but I loved it and can not wait to visit more places.
---
Where I want to go
I want to vist alot of places, but there are several that really peak my interest. Glacier and Zion National Park are the first on my list. I am going to visit these parks this summer for my senior trip and I can't wait. These parks have amazing views and trails that everyone should experience. Hopefully when I go this summer I will have alot of fun.
Another place that I want to visit is New Zealand. I want to go here for the same reason I want to go to the National Parks. New Zealand is very remote and takes alot of traveling to get to. It has stunning mountains and wildlife. I have wanted to go to New Zealand all my life and hopefully I can go there one day and experience it. I also think that everyone should visit a place like this so they can appreciate the planet we live on.
The last place that I really want to visit would be the country of Iceland. Iceland is famous for it natural geysers and natural beauty. As well as geysers there are also volcanoes, lava fields, and black sand beaches. All of these features are why I want to visit Iceland in the future. As you can notice all of my dream vacations are consist of outdoor places. This is because I prefer the outdoors over urban areas.
---
Where I have been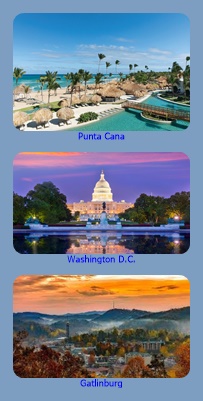 Throughout my life I have been to several interesting places that I would love to visit again. I have been to Washington D.C. which was awesome and really interesting. We got to see the different historical monuments and figures that began our country. We also got to see a several of the smithsoniam museums and look at different historical events. I thought the natural history museum was the coolest because I got to see how humans first came to be.
I have also been to The Dominican Republic. On our trip we stayed in a resort around Punta Cana. This trip was awesome because we got to go snorkling and see different species of fish. Another excursion that we did involved driving dune buggys through the countryside and visiting a perfect beach that was hidden in a cove. Going to The Dominican Republic and was very interesting because of the different cultures we got to see and experience.
The last location that is on my list is Gatlinburg Tennessee. This place was awesome because we got to stay in a cabin at the top of a hill. While we were here we went to the aquarium and did a bunch of other stuff. We also got to go up a space needle and visit a museum that resembled an upside down building. This museum had all sorts of interesting exhibits regarding science. It was similar to the science museum in St. Louis. Going to Gatlinburg was really fun because I got to go with my entire family.
---
Photoscape
I enjoy photoscape because it allows me to edit pictures the way I want for completely free.
1st image

As you can see this image is extremely edited. This provides an example to others that you can do lot to your images for no cost. I enjoyed editing this photo because I put every effect that I could find on the image. Hopefully this provides as an example of what you can do with photoscape as it allows you to edit your photos however you want.
2nd image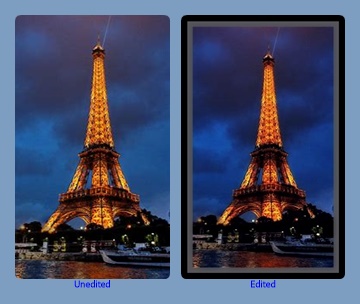 I did not edit this image of the Eiffel Tower as much as I did with the dog. With this photo I added a frame and brought out some deeper colors. I did this by using the bloom level settings that are in Photoscape.
---
Created by Gavin Mense &copy 2021